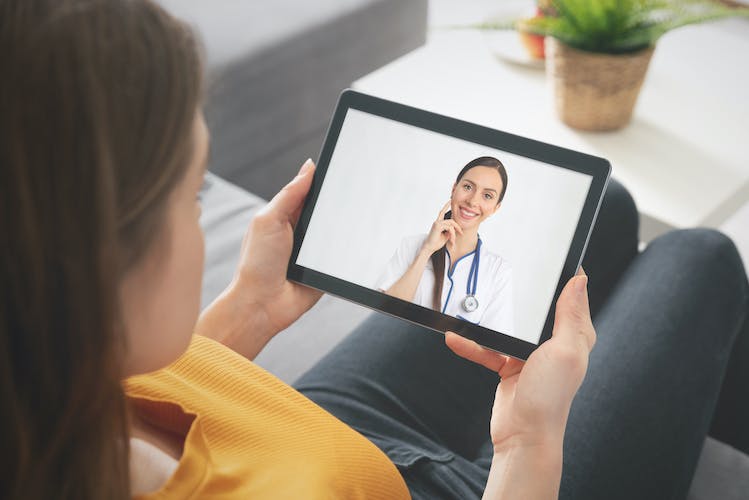 Can't leave your house at the moment to come to the clinic? No problem at all!
We have an exciting new way of treating you remotely, and It's called Telehealth. Our Podiatrists can conduct consultations while you are at home - all you need is your phone and the camera on it. We can assess and diagnose you, guide and educate you and prescribe your treatment without you having to come to our clinic.
Telehealth has been utilised by Podiatrists and health professionals all over Australia for many years, and this is an exciting addition to our services. During Covid-19 when isolation is the norm, we aim to provide you our professional services so that you are able to keep your feet in great shape and keep pain and dysfunction to a minimum.
What can we do during a Telehealth consultation?
There are many problems that can be assessed during an online consultation; including
Ingrown toenails
Verrucae (commonly known as warts)
Other skin conditions - Tinea, Dermatitis, corns and callus
Problems such as bunions and hammertoes
Painful foot problems such as Heel Pain, Plantar Fasciitis, Arch Pain and Achilles Tendonitis
Wounds and sores on your feet
Footwear Assessment
What do I need to do to have a Telehealth consultation?
Simply book online for an Intial Telehealth consultation.
Prior to your appointment, you will be sent a short questionnaire which will help us to prepare for your consultation. Please complete this and return it to us prior to your consult.
What do I need for a Telehealth consultation?
You need a telephone with or without video capabilities (it is much easier to do a Telehealth consultation with video, however, if this is not an option for you, we are able to do a telephone consultation).
You need a good internet connection.
You will need to be able to move around and move your telephone around during your consultation.
If you have any shoes or other things that you may like to show your Podiatrist, please have them near you.
What about my Privacy?
Foot Right Podiatry adheres to strict privacy laws that are in place in Australia. We use a platform (Coviu) that satisfies the stringent security and privacy requirements of healthcare businesses in Australia.
Your privacy will be protected in the same way a face-to-face consultation.
No one else will be present during your consultation without your knowledge.  It can be of benefit to have another person with you during your consultation if practicable.
I've Booked In! Now What?
You can prepare for your online podiatry consultation by following these simple steps:
Make sure you have completed your questionnaire that we sent to you
Open the email from your Podiatrist and follow the steps to Join the meeting  at least 5 minutes prior to the appointment.
Wear clothing that allows us to see your feet and legs
Choose a space in your home that has good internet connection and little noise - no background music or other disruptions.
Fees and Charges
Clients that have been referred for Podiatry under a Chronic Disease Management Plan are eligible for bulk billed telehealth consultations.
Clients that are covered under Department of Veteran's Affairs are eligible for bulk billed telehealth consultations.
Currently (as of April 14th 2020), rebates are available for telehealth consultations if you have Private Health Insurance with Medibank or AHM . We are hoping that other health insurers will also offer rebates in the near future - watch this space! If you are someone who uses Private Health Insurance and would like a telehealth consultation, please contact us for more information about our remote access plans.
What Else?
Your Podiatrist may recommend further examination or assessment. Depending on your condition, this examination could be may need to be conducted by a nurse, a GP, or another health professional. You may require an X-Ray or an Ultrasound and we can arrange for referral when required. If you require further physical assessment or treatment by us, we will recommend treatment in our rooms based on the severity of your condition.
If you require paddings, strappings, dressings, creams or other treatments, we are able to get these to you without you needing to leave your home. Simple and understandable instructions will be written to make any home treatment easy to undertake.