Ingrown Toenails and Nail Surgery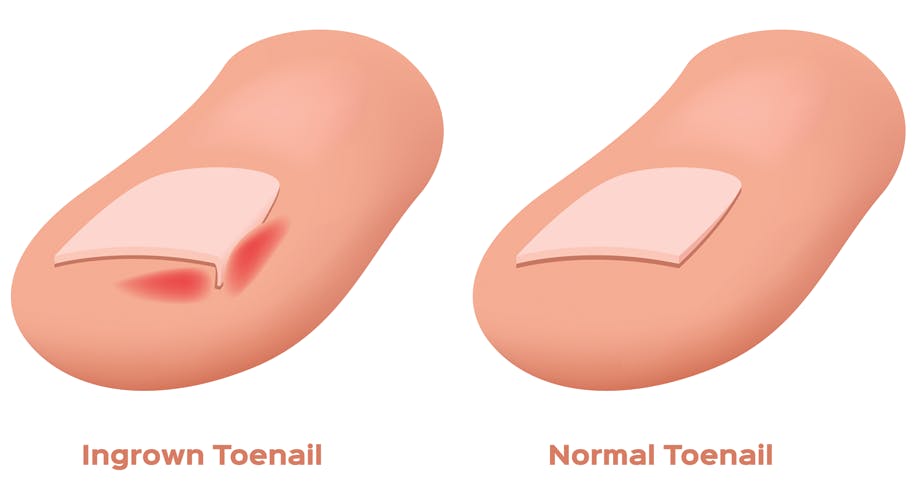 We treat ingrown nails of all types every day. Often it is a simple and painless procedure that consists of removal of a small portion of the nail that has become lodged in the flesh. Generally, this treatment is pain-free and will have you walking out of our rooms much more comfortably than when you come in.
Why Do I Have an Ingrown Nail?
There are many reasons why you may have an ingrown toenail
 -        Curved shaped nails
-        Wide, or fan shaped nails
-        Incorrect nail cutting technique
-        Tearing, ripping or picking nails
-        Injury to the nail
-        Thickened nails
-        Tight shoes
To see our blog post on how you how to prevent an ingrown nail click here.
The good news is that we are able to treat many problem nails without surgery, however, if you have something more serious, surgery may be for you.
Onyfix - Nail Bracing
Onyfix is a new, pain-free treatment for involuted and ingrown nails, which is only available through registered and certified Podiatrists. It is a nail bracing system that does not require ugly and painful wires and rather, Onyfix uses a hardened composite material which is cured by a LED light and acts like a brace on the nail plate. Once it is applied, the brace will grow with the nail, encouraging the nail to grow out with a flatter nail shape, thus reducing the discomfort your nails are causing.
Onyfix is a fantastic solution for people who have very curved shaped nails, or for people with split toenails. Contact us today to see if Onyfix would be a good choice for you!
Ingrown Toenail Surgery
If your ingrown toenail has been apparent for many years, has been infected, or never really heals, it may be recommended that a minor nail surgery be conducted. Foot Right Podiatry is registered to perform nail surgery. This is performed under local anaesthesia, which means the affected toe is numb for the duration of the procedure. The procedure is conducted in the clinic rooms with sterilisation procedures in place to limit the chances of infection.
During the surgery, a small section of the nail is removed without cutting the skin, and a chemical, which prevents nail growth, is applied to where the nail grows from. Specific dressings are applied after the surgery to keep the wound clean and clear and decrease the chance of infection.
You will be able to walk immediately after surgery, but may require a wider shoe, or open shoe for a few days to allow your toe to have a bit of space while it is sensitive. We do recommend that you keep your foot up following the procedure to reduce the chance of post-operative bleeding. 
We will follow you up for a change of dressing 2-3 days after the surgery and again a week after. You can expect to be fully healed approximately 3-4 weeks post-surgery, but back to full activities sooner than that. Once your nail has healed, it will appear slightly narrower than before, but otherwise just like it was (but without the pain!).
Our podiatrists have collectively conducted this surgery for decades – you can have confidence that we will be able to prevent your problem nails from ruling your life once and for all.
Visit our blog to see some before and after results of nail surgery.