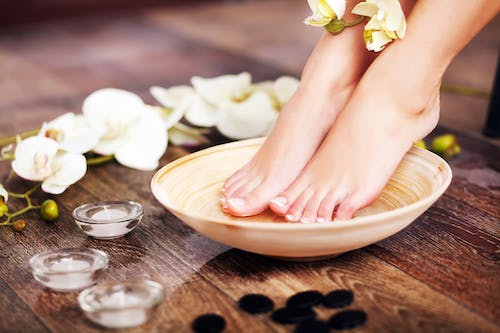 You have a big weekend coming up and you need to get your feet into shape to go with those fancy new shoes you've bought! What to do? Most people will head of to the salon to have a pedicure, but why don't you try a Medical Pedicure?
Podiatrists care for your skin and nails by using high quality instruments that are sterilised to the highest Australian Standards after every client. With our private rooms, we can make you feel at ease while we treat your feet and give you advice on how to improve them and prevent ongoing problems.
With our professional training, there is not a foot condition that we haven't seen! We are able to help you with your problem nails, hard skin, corns and callus and also offer advice on how you can make your feet look even better.
With so many stories about terrible things that can happen at the nail salon (fungal infections, infections, cuts, ingrown toenails), the team at Foot Right Podiatry have added this new service. With our hygienic practice, your risk of having problems after your treatment are limited.
Our Medical Pedicure includes
Cutting and filing your nails
Buffing your nails to improve their condition and appearance (removing yellowing from nail polish or other discolouration)
Clearing around the sides of the nails
Removal of hard skin from around your toes
Removal of hard skin from underneath your feet and particularly around your heels
Sanding the skin on the feet to make them smooth and silky
Massage with high quality moisturiser to really make you feel refreshed and your feet looking your best
Advice on how you can improve your feet and how to prevent ongoing problems.
Please Note: Currently we do not offer nail polish application with our Medical Pedicure.